Has anybody else ever started writing an Instagram post and then decided that the post content was way, w-a-y too long for Instagram so they turned it into a blog post instead?  That's what happened to me, today, and then I realized that it's a good thing!  I have been wanting to blog about my words for the year – Yes, I have two words, this year.  Believe it or not, though, when I made my list of posts to work on, those weren't on it.
This is the first year of my having a word for the year where it has had such an impact on me i mmediately, and in so many ways. I'm talking right now about my personal word, 'rest'. I've used it to temper my reactions to things, to discipline myself, and just today, to change my environment.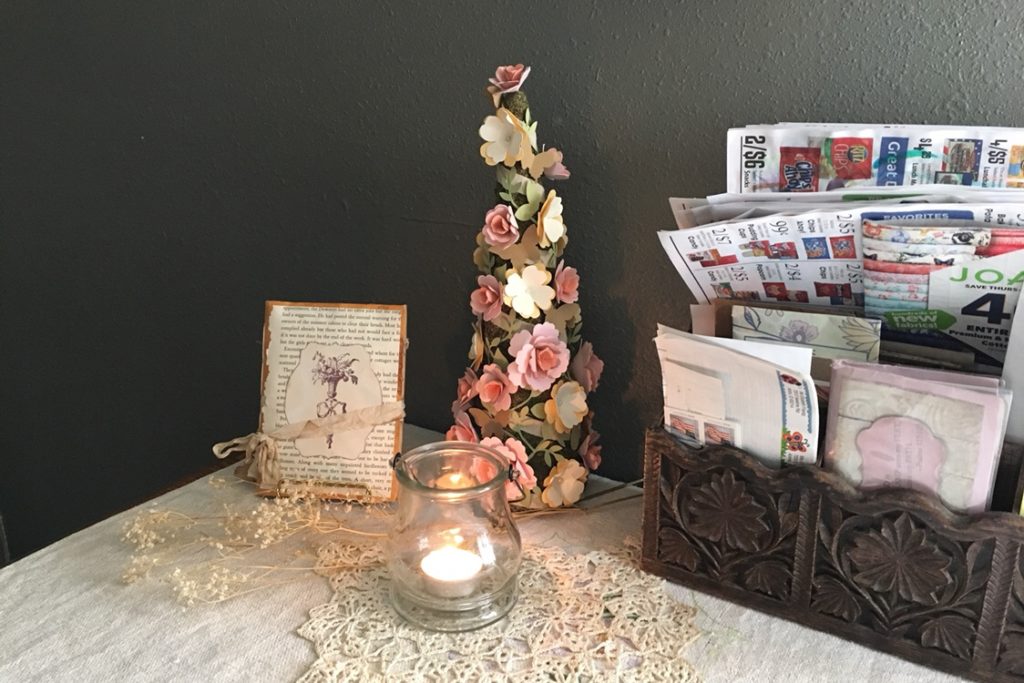 This little space involves a solid oak microwave cart (Handcrafted by a friend as a going away present when we moved from Wisconsin!), some vintage linens that I've kept put away for a l-o-ng time, a crocheted doily and paper crafted tree that I made myself, and one of my own gratitude journals. I found that lovely glass tea light lantern at the Family Dollar and nabbed it right away.  The baby's breath is saved from either a Valentine's or Mother's Day bouquet from last year.
It's set up in a room that I call my Grey Haven, (Any Tolkien fans reading?), which is really my office and crafting room, but is on its way to including a cozy reading corner, too.  It's so named, because I painted the walls gray and do use it as my haven to take a break from the hustle and bustle of family life.
A place that I go for rest & refreshment.
You can see on the right side that I also have a paper sorter sitting on this cart, and it's kind of cluttered. But you know what? That's okay!! Because today I chose to style this cart as symbol that I CAN have peaceful, restful places, physically in my home, and mentally/emotionally in my mind and heart – – In The Midst of all the clutter, hustle and chaos of life.
And that's what having 'rest' as my personal word for the year is all about.  It's about letting go of all the 'undone' things so they don't hold me back.  It's about moving forward with our vision in mind, the ultimate goal of what we believe God's plan is for our family and building the lifestyle that reflects that, even though things aren't perfect.
Do you have a word for the year?  How has it affected you already?  Let me know in the comments, below.