The Christmas season abounds with memories, memories of years past, and new memories that are in the making.  We all cherish our memories, but sometimes we struggle to record them, no matter how good our intentions to do so.
I'm a sporadic journal keeper, but I have found myself being more regular about it since I discovered 'junk' journals.  Many of these journals actually defy the name junk, since they are amazing works of art, in and of themselves.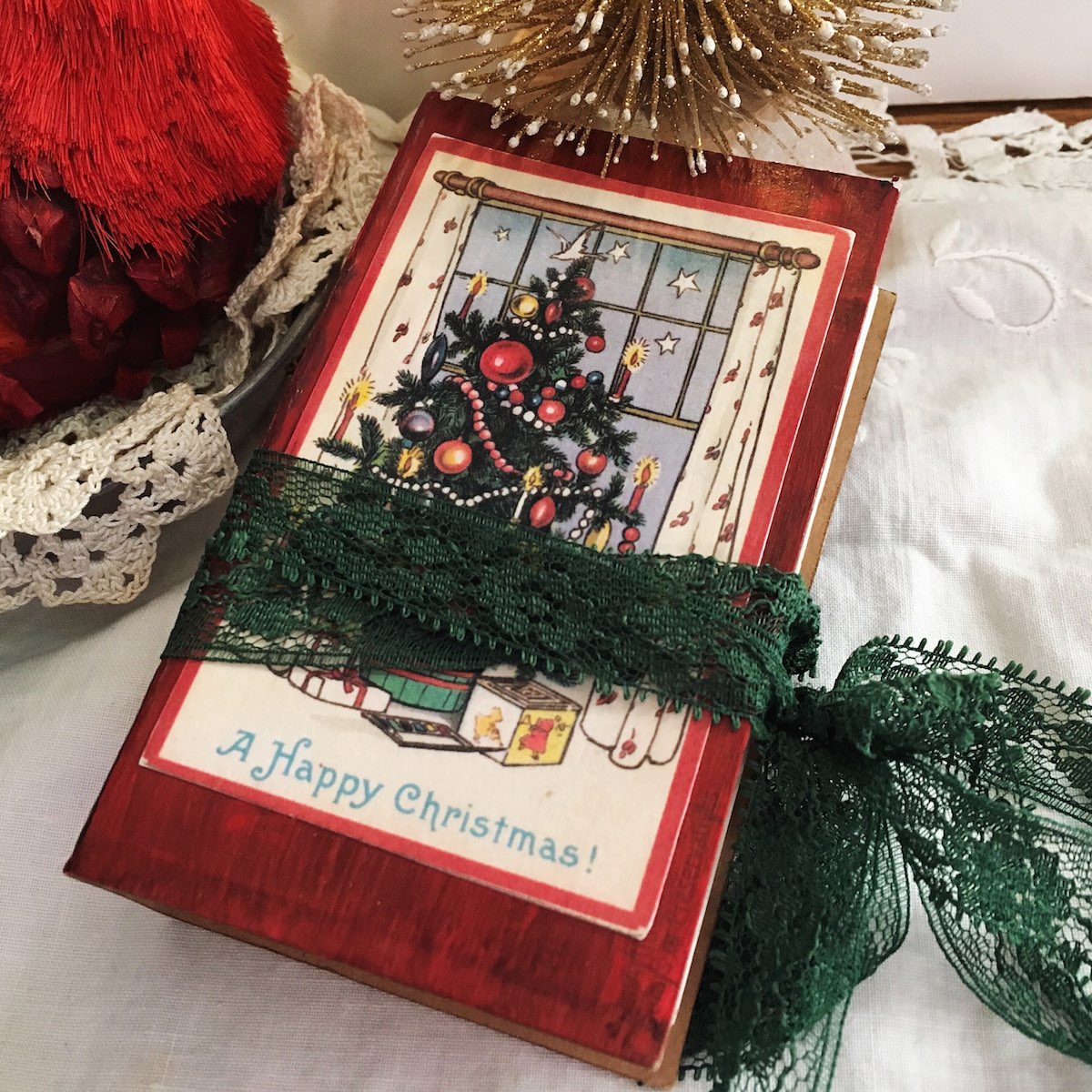 Incorporating upcycled and repurposed items into these journals does, however, give them a nominal claim to the title of junk journal.  And for me, using upcycled materials is the most gratifying part of making them.  Well, maybe only one of the most gratifying parts of making them, since putting one of these together satisfies all of my current paper crafting urges, like using ink, stamping, flowers, all things vintage, and lace.  Can't forget the lace!
This little journal started out as a personal challenge.  We had just made something in the kitchen that used cream cheese as an ingredient, and knowing that I was now looking over every 'garbage' item with an eagle eye before pronouncing it as actual garbage, my daughter brought me the cream cheese box and asked me if I wanted it.
I almost said no, but then I had the inspiration to use it as the cover for a mini journal.  And this is the result.
I painted, inked, and then mod podged the cover.  The pages were dyed with re-inkers and stamped.  I wish I would have thought of doing that before I put the journal together, because stamping was not the easiest thing to do on those tiny pages after the book was assembled.  For that reason, some of the stamping doesn't measure up to my usual standards, but I decided that it adds to the character of this mini journal.
It's a tiny little thing, the pages only measure 2 5/8″ x 4 1/4″, but that just may make it the perfect carry-along so that recording memories from this holiday season is easier than it has ever been before.
Ans what tween girl could resist such an adorable little book if she found it in her stocking?
Want a closer look at this journal?  Click the button below.