Elizabeth ~ Textile Artisan, Passionate about Lace
Hi!  I'm Elizabeth.  I have a love of textiles and creating them with my own hands and a passion for lace.  From the time I was six years old I've been adding to my skill set which includes crocheting, knitting, sewing, embroidery, tatting, spinning and weaving.
As I look at the world around me, I become discouraged at the disposable mentality that permeates our culture.  I'm an old fashioned girl who believes in the adage, "Use it up, wear it out…"  Which is why you'll find me blogging about, and making products that incorporate repurposed and upcycled materials.
I supervise and assist Stretch with his weaving projects, and develop products that use his weaving to it's best advantage.  In addition to that, I create the handmade journals you find in our shoppe, and write the blog.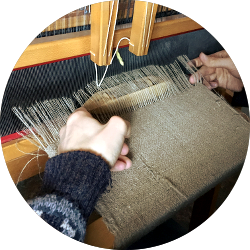 Stretch ~ Gifted Weaver
Stretch is my eldest son.  He is mentally impaired but has a wonderful ability to create lovely things on the loom.  He showed an interest in weaving when he was about 13, (you can read the story of how that happened in this blog post), and from the very beginning his color choices and talent for this ages old textile art had us all amazed.
Not every project turns out perfectly, especially if he's having a bad day.  Because of that, the addition of product lines like the journals, purses, bags, and pouches (all coming soon) will allow even these weavings to be made into lovely and useful items.  Being able to weave has brought great joy and purpose to the life of this young man, and as his mother, I'm more than thrilled that he has a positive focus in life.
To learn more about our journey into the world of textiles read My Story, read about the latest project on The Blog, and don't forget to sign up below for our Newsletter containing info on the latest products, promotions and other fun news.
Save
Save
Save
Save
Save